A little later, I was off to Cayman Brac.  Cayman Brac is one of the sister Islands in the Cayman Islands.  It is just a few miles south of Cuba.  We were helping a doctoral student learn how to capture and 'process' the iguanas.  Process means all their body measurements are taken: weight, length, sex, scars, etc.  Everything you would want to know about the animal.  Oh, I need to tell you which iguana it is.  Silly me.  The species of iguana on CB, that's short for Cayman Brac, is Cyclura nubila caymanensis. Since most humans don't use scientific names, they are colloquially known as Sister Island Rock Iguanas. I love that word colloquially.  They are native to CB and Little Cayman (Little Cayman is the other sister island).  Not much is known about the CB iguanas, so we are helping out with the research now being done.  There is so much to learn and we need to learn it before the SIRIs are all gone.  The ig population is in decline due to habitat encroachment by human development and predation by feral dogs and cats. Extinction is a real possibility.  So a few dedicated humans are working to ensure their survival.
Going to CB also lets me visit with my cousins, the CB curly-tails.  Yes, my ancestors wandered far and wide.  I can see why some of them settled in the Caymans.  They are lovely islands.  Not as nice as the Bahamas, but I am biased.
My cousin, a Cayman Brac Curly-tail Lizard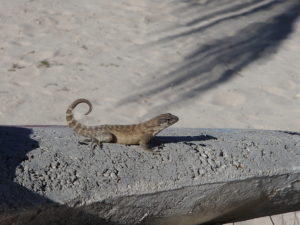 Like us curly-tails, the igs like to bask.  Only they do it on the roads where they get hit by cars.  The DOE and DOT have put up signs warning drivers that there may be iguanas on the road.  Sadly, too many igs are still being hit and killed.  Maybe with time, the drivers will become more cautious.  The CB iguanas are great animals and deserve respect.  I encourage everyone to get to know an iguana, even if it's not a SIRI.