Every seventeen years, the Brood X Cicadas emerge from the ground in the northeast US.  They climb and fly, singing their mating call, mate and produce the next generation.  With over a million per acre, there are a lot of big, very noisy insects out there.
Something different this year is the number of recipes being offered for cooking and eating these large insect morsels. After all, as part of the effort to conserve our planet, we are being encouraged to eat other more sustainable protein sources. And these insects are high in protein and low in fat.
A few years ago, at a Reptile Show, one of the vendors offered roasted grasshoppers and crickets for consumption.  If you were willing to taste one, you'd get an entry into a drawing for some nice prizes.  I am a curious eater, so I ate one of each. I discovered that the roasted insects were delicious, reminding me of pistachio nuts!  Most of the insects were still available at the end of the event, so I was rewarded with a full serving. Oh, and I did win the drawing for the grand prize.
Consequently, I was interested in the various articles about preparing and enjoying the plentiful cicadas: Recipes for eating them raw, roasted, boiled, grilled, and even smoked. There are instructions for making spicy popcorn cicadas from the Washington Post, cheese grits and blackened cicadas from Bon Appetit, on a nice asparagus salad or a cicada-nymph spring salad from the Brooklynbugs site. You can have them on a pizza, in tacos, or with chili guacamole from the AMNH. For dessert, you can have chocolate -covered cicadas or in a rhubarb pie. Yum!
Newly hatched cicadas, called tenerals, are preferred because the shells haven't hardened. Storage is easy: use them immediately, refrigerate or freeze them. Choose the method that's best for your recipe.  If the only cicadas you can find have hardened, females are best, because they're filled with fat–males are hollow.  Remove the wings and legs, if you're using the adults.  Unless you like the crunch, they're not very flavorful.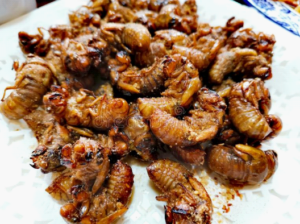 I was curious to try this unfamiliar food item when the FDA squashed my desire. The cicada flavor is apparently reminiscent of crab and I shouldn't eat crab. You see, I'm allergic to shellfish and the FDA warns people not to eat cicadas because they are related to shrimp and lobsters!  Oh, great, another food I'm allergic to!
Crustaceans are responsible for life-threatening allergies in many people. Insects and crustaceans are arthropods and share many proteins that might be the cause of the allergic reactions.  In addition, chitin, a complex carbohydrate involved in the body structure of arthropods, has been implicated in allergies.
Those of you who can, enjoy those cicadas! Please share your experiences with those of us who can't in a Comment field.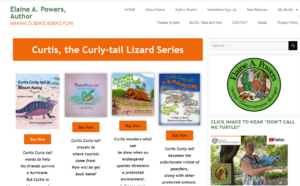 Book Note from Curtis Curly-tail Lizard: Hi, friends, it's me, Curtis Curly-tail! Have you missed me? I've missed you! I've been busy over at my YouTube channel where all kinds of stuff is happening! But I thought I'd butt in here. Elaine, as wonderful as she is, hasn't written any books about insects yet, but because she knows how much they mean to me, she includes them in my stories. If you love island life, you'll love my tales! Summer is here and kids love to read fun books. Pick up a Curtis Curly-tail tale today! My adventures are irresistibly fun science books! Who makes science fun? Elaine A. Powers, that's who! (Though I, yes, I, Curtis Curly-tail lizard, inspired her writing career! In other words, where would she be without me? You can read the true story here.)
My latest adventure was a doozy! Check it out here: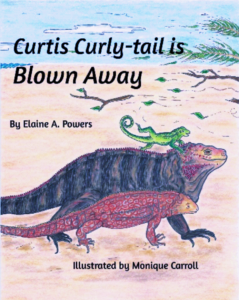 P.S.–Boy, do those big bugs get my saliva going! Elaine, please prepare and ship me some Cicada salads ASAP, to:
Curtis Curly-tail Lizard, the
Most Famous Lizard Ever
My Perfect Den
Warderick Wells Island
The Exumas
The Bahamas
Thank you, my friend!
#elaineapowers  #lyricpower   #cicadafood