Living in the Sonoran Desert, I don't often see mushrooms.  Sometimes, fungus appears on the trunks of dying trees, but that's not often. This year, Tucson has had a very wet monsoon season, which is wonderful after years of severe drought.
Along with the greening of the vegetation, the abundance of rain has brought forth some interesting mushrooms.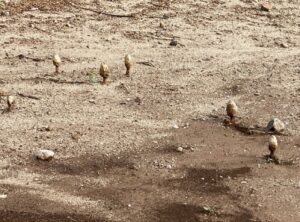 These interesting mushrooms are Podaxis pistillaris, the Desert Shaggy Mane mushroom. Possibly the most common mushroom in the Sonoran Desert, this genus of fungus, possibly this species, is found in deserts worldwide. The above ground portion, the fruiting body, appears after a soaking rain. The fibrous texture and closed cap are believed to protect the gills and spores from desiccation.
The mushroom starts out whitish, turns brown, eventually ends up as black powder.
Being unfamiliar with this type of mushroom, I was curious to see what happened to these specimens. Would they be consumed by rodents, rabbits or coyotes? Would the horses be interested in eating them?  No, these mushrooms were undisturbed. This made me think this fungus is toxic.  However, P. pistillaris, is eaten in many areas of the world and has high nutritional value.
In addition, this mushroom is used extensively in traditional medicines and cosmeceuticals throughout the world. Now, I'm intrigued to try this mushroom, but I'll await instruction by an experienced mushroom hunter.
I'm always delighted when I discover new and different aspects of the Sonoran Desert.
Book Note: If you'd like to know more about the flora and fauna of the Sonoran Desert, check out my Don't series and the other Sonoran Desert-themed picture books.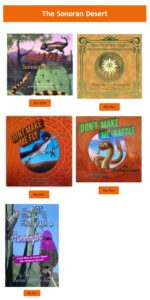 #elaineapowers
#lyricpower
#desertmushrooms
#Podaxispistillaris