Here is Albert finishing up his recovery in foster care. By the way, he's very adept at using his magnificent tail for defense!
The Sonoran Desert is not known for its wetlands. That's why the Sweetwater Wetlands are so special. This isn't a natural wetlands, but was created by the City of Tucson's reclaimed water system. Reclaimed water is used exclusively in the wetlands. Visitors have access to the wetlands and the inhabitants through 2.5 miles of pathways.
Surface water attracts wildlife in the desert, so many can be seen in the Sweetwater Wetlands. Being particularly fond of reptiles, I'm curious about what kinds might be there. Several reptiles are known to inhabit the wetlands, such as the Tree Lizard (Urosaurus ornatus), Western Box Turtle (Terrapene ornata), Sonoran Gopher Snake (Pituophis catenifer affnis) and the Western Diamondback Rattlesnake (Crotalus atrox).
However, recently a reptile was seen that definitely did not belong there. It's bad enough that Red-eared Slider turtles (Trachemys scripta elegans) have been introduced there, and the Sweetwater Wetlands does not need Green Iguanas (Iguana iguana).
Unfortunately, green iguanas have become invasive in many ecosystems around the world because people release them where they don't belong, like the Sweetwater Wetlands. Part of my work in iguana conservation is to help people identify green iguanas. If you'd like more information on iguanas, please visit my website and contact me through elaineapowers.com.
After several reports were received about a male iguana in the wetlands, the Animal Experts were called. They had to wade through the water to reach the tree where the iguana was hanging out. Definitely, an incredible adventure. The men were able to successfully retrieve the lizard. You can follow their story on Animal Experts on Facebook.
The iguana was taken to a local reptile veterinarian who discovered he had a large bladder stone. It is suspected that this is why he was released. The staff named him Albert. Surgery was performed to remove the stone and Albert was put into foster care to recover.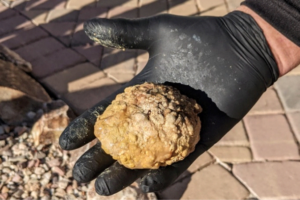 Photo of the bladder stone removed by Dr. Jarchow of Orange Grove Animal Hospital.

A GoFundMe account was set up to help pay for Albert's medical costs. As soon as he has healed, Albert will be put up for adoption. Hopefully, Albert will find a forever home soon.
Book Note: I wrote a book called Silent Rocks about the critically endangered rock iguanas of Cayman Brac, and how they need the help of humans to survive. If you'd like to help, book information is here and it is available at Amazon.com.