My reptiles like hard squash, so I cook pumpkin, butternut and acorn squash until they are soft and squishy. The easiest way to cook them is whole in the microwave. I don't bother to cut off the stem. I rinse off the outside, plop it in, and cook until it is soft.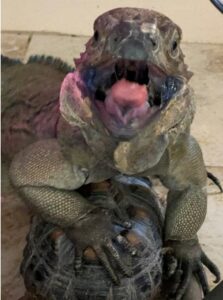 I was cooking the third of the 'Buy 3-for-$5' pumpkins while writing at the kitchen table. Good thing, because I smelled smoke. Not the flavorful aroma of cooking vegetables but the odor of burning wood.  With the number of heat lamps in my house, I do worry about the wooden enclosures catching fire from a misplaced heat lamp. I immediately began sniffing for the direction the odor, which led my eyes to the microwave, where I saw that the pumpkin stem was in flames! (Inside the microwave, mind you.)
I ran over and unplugged the microwave, grabbed the pumpkin and poured water on the stem in the sink. The inside of the oven was scorched but had not been engulfed in flames, for which I was very thankful. Fortuitously, the pumpkin was cooked to perfect squishiness, so I would be able to feed the reptiles. The stem, however, was ash.
After all the squash I had cooked in microwaves, why did this one catch fire?
Microwaves produce an electric field that does the cooking. If small amounts of metals or minerals are present, they can enhance the electric field, sort of like a lightning rod. Pumpkins contain minerals; after all they are very nutritious. It is possible that the minerals in the stem, a conductive material, along with the extended stem, created a stronger electric field than the air around it. The dry stem was definitely flammable.
Poof! Kind of like a Pumpkin Flambe happened in my microwave.
Apparently, flames can be produced by many fruits and vegetables, but my advice is, "Don't try this at home!"
Then, it was back to writing. Books, blog posts, newsletters–I am a busy writer, especially if you add in the mystery novels I'm working on. I hope you'll check out my fun children's science books on the My Books page. My publisher sells activity sheets and workbooks to accompany them, at Lyric Power Publishing LLC. They are jam-packed with lots of fun and interesting supplemental science education activities.