Usually, author Jo Busha writes the blog posts on plants, but one of my potted cacti inspired me to share this magnificent plant with you. Last year, a friend gave me this trio of the cactus, Mammilaria senilis.
This mammillaria is native to northern Mexico, growing on moss-covered boulders in high altitude pine forests. I am a bit surprised it is doing so well in my desert home. Its common name is Cabeza de Viejo, which translates to Old man's Head. Not sure I see it . . .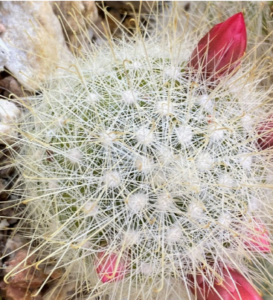 Although this cactus may look like it is covered with white tufts, they are hooked white spines. But the most spectacular feature is the enormous red flowers that contrast with the diminutive body.
This plant is considered difficult to grow since it needs a lot of light and ample airflow. Outside in the desert, mine is certainly getting plenty of sunlight and airflow. Letting the soil dry before watering is not an issue. However, as a mountain plant, it prefers cooler temps . . . oops. It can withstand full sun as long as it is morning sun, not the baking afternoon sunlight.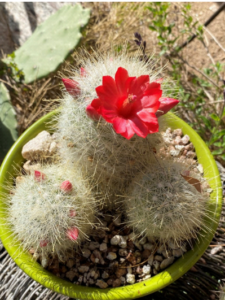 A cultivation guide says that if grown correctly, this cactus will reward the grower with generous displays of red flowers. I like my reward.
If you or your children are interested in fun plant books, I've written two so far: Queen of the Night: the Night-blooming Cereus, shown below, 20 pages for all ages, written in rhyme, about the magnificent Sonoran Desert plant that all bloom together one night each summer, an Amazon #1 book in the Children's Botany section, with colorful illustrations by Nicholas Thorpe;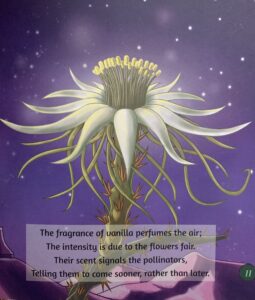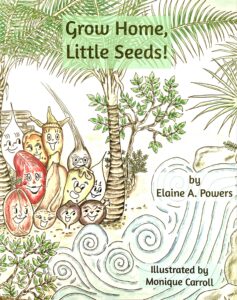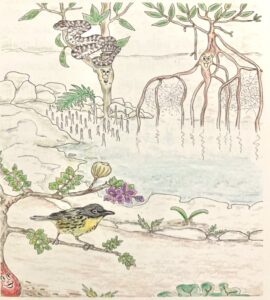 and Grow Home, Little Seeds, a tale for ages 8+, 25 pages with a 10-page seed appendix, illustrated in pastel colors by Monique Carroll, in which a group of seeds leaves the Leon Levy Preserve to find their homes. Along the adventure, they learn they are different and that they each have their own needs to grow, but that they can grow up alongside each other and remain friends.
#elaineapowers
#botanybooks
#queenofthenight:nightbloomingcereus
#growhomelittleseeds