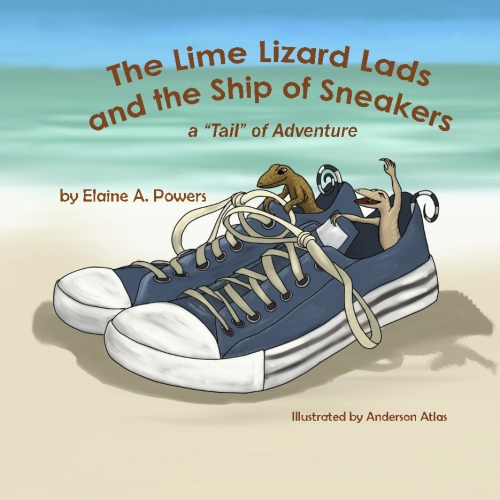 Gene and Bony,
The Lime Lizard Lads,
are tired of wondering
where the tourists go.
They decide to find out
for themselves and have
quite the adventure!
A Chapter Book
For Readers Age 8+

48 pages
Delightful, colorful
Illustrations of the animals,
the island and ocean life
by Anderson Atlas
Gene and Bony are Curly-tail Lizards who live on Cayman Brac. They are best friends and are known as the Lime Lizard Lads.
They enjoy a wonderful island life (besides dodging herons), but they are fascinated by the tourists, who love taking pictures of their perfectly curled tails.
Day after day, they wonder where the tourists go on those boats. Finally, the Lads decide to sneak aboard one and find out! But not without some second thoughts . . . especially when they got really hungry.
But the boat docked at last–at George Town on Grand Cayman. They are carried onto shore, and into a car, and back out to sea and onto land and back in a car. They'd had enough! It was time to escape from the bag and return to Cayman Brac!
There's just one thing–how will they get back home?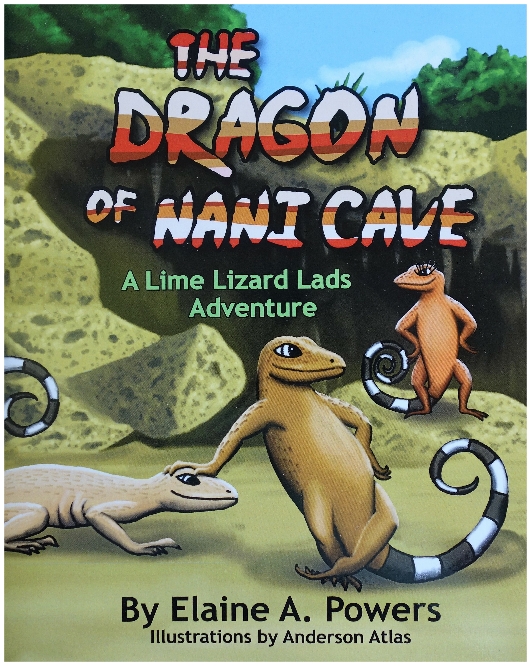 The Lime Lizard Lads,
Gene and Bony, LOVE exploring
their island home, where the bravest
thing possible is to go see
the Dragon of Nani Cave.
An Adventure Tale
For Readers Age 8+
48 pages
Fun and Colorful
Illustrations of the many
animals they encounter, 
including the Dragon!
by Anderson Atlas 
Gene and Bony are bored. They go see Old Soldier Crab who tells them wondrous, dangerous creatures live up on the bluff. And, if they go, they must prove themselves worthy and return with a piece of Caymanite.

They must journey through Skull Cave and meet bats, and a cat with sharp teeth. Then they meet Kat, a fellow Curly-tail Lizard and she knows the way to Nani Cave. But she warns there might be more than one dragon.
Meeting one danger after another, they finally arrive at Nani Cave. There he is: the dragon! He's HUGE! And look at all those teeth!
What will Gene and Bony do now?
KEEP THE FUN GOING!
COORDINATING WORKBOOKS AND
ACTIVITY SHEETS AVAILABLE AT
LYRIC POWER PUBLISHING, LLC:
MY  READING BOOK AND COLORING PAGES FOR THE DRAGON OF NANI CAVE
NINE PLANTS OF THE CAYMAN ISLANDS
FIVE WAYS TO PROTECT CAYMAN BRAC WILDLIFE COLORING BOOK
MY PASSPORT TO THE CAYMAN ISLANDS
ANIMALS OF NANI CAVE AND
CAYMAN BRAC COLORING PAGES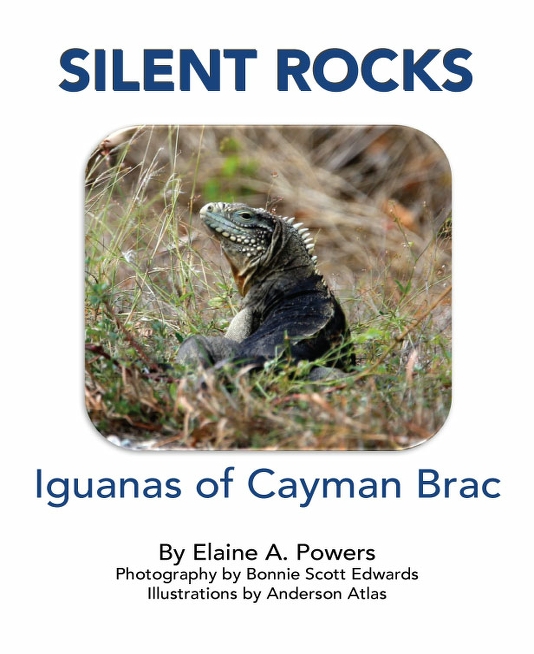 We don't want to see
the Iguanas disappear!
They belong on the island!
They must be here!
Written in Rhyme
For All Ages
26 pages
Photographs by
Bonnie Scott Edwards
Illustrations by
Anderson Atlas
The endemic Sister Isle Rock Iguana of Cayman Brac is critically endangered. This poignant book shows why* and how we humans can help. Includes many photographs of these magnificent large lizards.
*Silent Rocks can be used to teach how humans endanger many species
Curtis Curly-tail travels to
where tourists
come from.
How will he get
back home?
An Adventure Tale
For Readers Age 7+
Wonderful Colored Pencil Illustrations
by Arthur F. Winstanley
40 Pages
CLICK HERE FOR
A BROCHURE
ABOUT THE BOOK
The very curious Curtis catches a ride on a boat. At first, the big city is so different, Curtis is happy to be there.
But, he's alone, in an unfamiliar place, where life moves very quickly. He wants to go home to his den, to his native sand.
How in the world will Curtis ever get back to Warderick Wells?
               * * * *
This book, before it became a favorite children's storybook, had a story all it's own. Then writer Elaine A. Powers, met a curly-tail lizard on a beach in The Bahamas; and after the lizard sat on her sneaker for over two hours, the story came to her, in one sitting.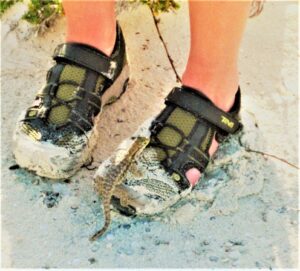 If you'd like to read the whole story, Curtis tells about this meeting on the blog page, Tales and Tails, in Hello from Curtis!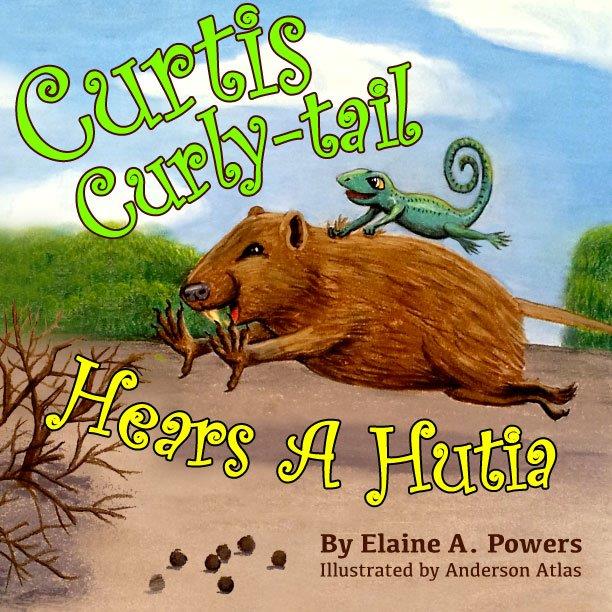 Curtis wonders what can
be done when an endangered
species threatens
a protected
environment.
A choose-your-
own-ending book.
A Chapter Book
For Readers Age 10+
Colorful, bright
Illustrations of the characters,
the island
and ocean life
by Anderson Atlas
40 Pages
This is a special story for readers
who like to solve problems. It takes Curtis Curly-tail on his second adventure, but is based on real ecological events taking place on Warderick Wells Cay in The Bahamas.
The hutia are endangered rodents native to the islands. Some are transplanted to Curtis's cay, and Curtis meets his new friend, Horace. When the scientists come back to check on the hutia, they find that the native shrubs are almost gone, due to the hungry hutia.
But Curtis and Horace do not understand what is happening when the hutia are captured and put into cages. Curtis decides to do everything he can to help Horace and his family.
It is you, the reader, however, who must decide how the story will end. How do you solve a problem when an endangered species threatens a protected environment? There are three endings to the book. Which one will you choose?
Or, will you come up with another solution?
Lesson plans for teachers are also
available at iginspired@gmail.com.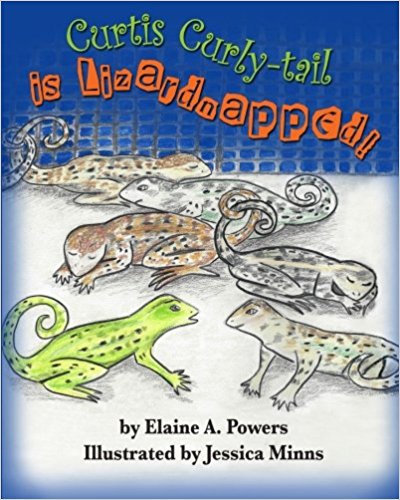 Curtis Curly-tail becomes the
unfortunate victim of poachers,
along with other protected animals.
Who will
save them?
An Adventure Tale
For Readers Age 10+
Lovely Colored Pencil
Illustrations by
Jessica Minns
30 Pages
In the third book of the series, the very curious Curtis Curly-tail mistakes a poacher for a tourist wanting to snap a picture of his perfectly-curled tail. Instead, he is captured, along with critically endangered native plants, Conch and Iguanas.
Together the animals plot their escape from the dangerous poachers. Who will help them? How will they get free of the cages on a boat and return home safely to Warderick Wells?
Curtis Curly-tail
wants to help
his friends survive
a hurricane.
But Curtis is
blown away!
What happens to
the iguanas on
Beach Cay?
Will Curtis be
blown back home
to Warderick Wells?
An Adventure Tale
For Readers Age 8+
Gorgeous
Illustrations by
Monique Carroll

30 Pages
In the fourth book of the series, the very good friend, Curtis Curly-tail, joins Allison Andros Iguana to warn fellow iguanas on low-lying Beach Cay about a coming hurricane. They are vulnerable to the storm surge, high rainfall and the powerful winds. Their entire population could be wiped out by the storm!
In this story, as in real life, people come together to help each other, the animals
and the environment. Curtis Curly-tail is blown away by the storm. Grab a copy today and find out what happens to his iguana friends—and if Curtis makes it back home to his perfect den on Warderick Wells Cay.
This is a fun adventure for kids that teaches them
about weather science and ecosystems.
Curtis Curly-tail is Blown Away makes learning science fun and is for sale at Amazon.com.