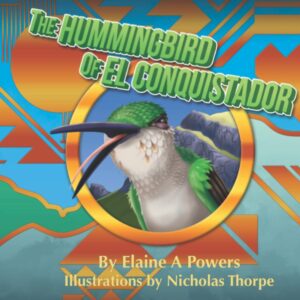 The Hummingbird of El Conquistador
Reading Level:
Ages 8+
One day a black-chinned hummingbird selected a branch outside the El Conquistador Resort's gift shop window to build her nest. By choosing that location, she invited the staff and guests into her world. Join in the exciting adventures of this amazing hummingbird.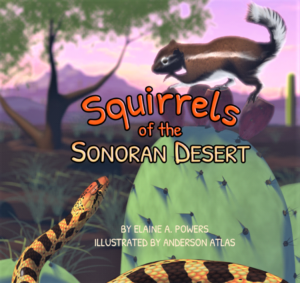 Squirrels of the Sonoran Desert
Reading Level: Ages 5+
 If your little ones are curious about those borrowing, furry squirrels in your backyard or at your favorite park, Squirrels of the Sonoran Desert is a great introduction. It's full of insightful information and wonderful illustrations by Anderson Atlas. Even if younger children don't remember all of the scientific knowledge contained in this book, it's important to start imprinting their brains with positive, educational, and interesting information about the world around them.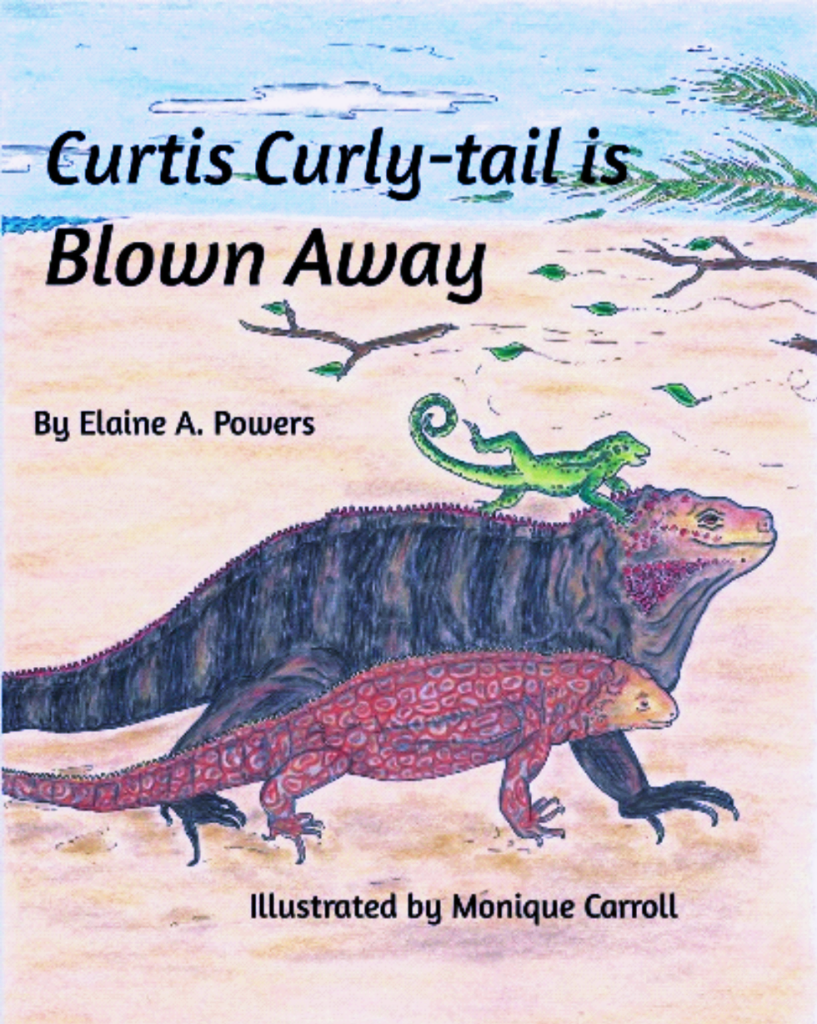 Curtis Curly-tail is
Blown Away!

An Adventure Tale
For Readers Age 8+
Gorgeous
Illustrations by
Monique Carroll

30 Pages
In the fourth book of the series, the very good friend, Curtis Curly-tail, joins Allison Andros Iguana to warn fellow iguanas on low-lying Beach Cay about a coming hurricane. They are vulnerable to the storm surge, high rainfall and the powerful winds. Their entire population could be wiped out by the storm!
In this story, as in real life, people come together to help each other, the animals
and the environment. Curtis Curly-tail is blown away by the storm. Grab a copy today and find out what happens to his iguana friends—and if Curtis makes it back home to his perfect den on Warderick Wells Cay.
This is a fun adventure for kids that teaches them
about weather science and ecosystems.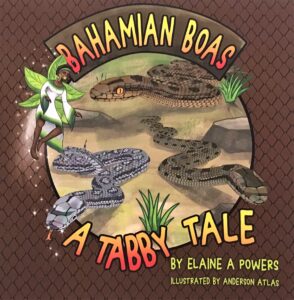 Tabby, the Five-Finger Fairy,
Ambassador for
Wildlife Conservation
in The Bahamas,
Introduces Us to Her
Bahamian Boa Friends
Reading Level:
Ages 8+
Written in Rhyme
40 Pages
Wonderful Illustrations
by Anderson Atlas
With A Facts and Photo
Page For Each Boa
Tabby, the Five-Finger Fairy, is a good friend to everyone she meets. After Cleo, a Bahamian Boa, rescues her in their first book, Tabby & Cleo: Unexpected Friends, Tabby tells us about the natural history of the often misunderstood endemic Bahamian Boas, which have an important place in Bahamian life.
For All Turtle Lovers!
Reading Level: Ages 6+
Written in Rhyme 45 Pages
Wonderful Illustrations of the Native Hickatee Turtle and Sea Turtles by Anderson Atlas
Learn all about the endemic Hickatee turtle who has so many troubles–well-meaning humans who throw them to their deaths into the ocean, cars that run over them, loss of land to lay their eggs, and cousins pushing them out.
Shows physical traits and the differences between these land-dwelling turtles and sea turtles that do reside in the ocean.
Make friends with the Hickatee today!