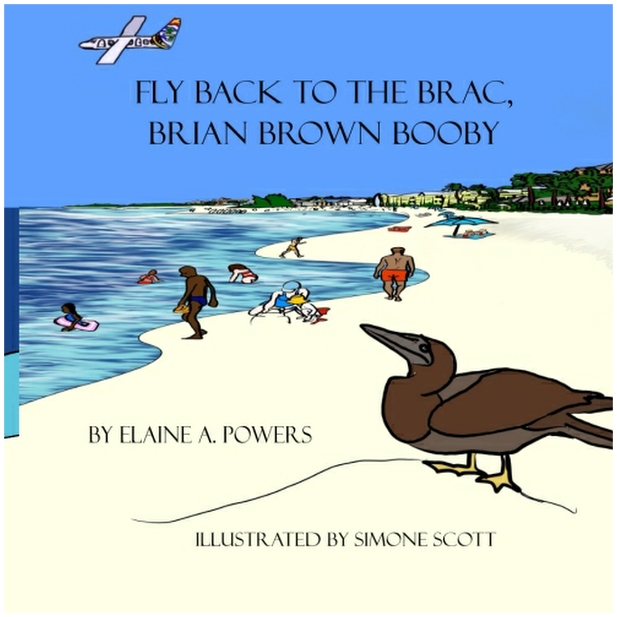 "You can fly, Brian
Brown Booby!
Don't give up!"
Colorful Illustrations
by Cayman Native
Simone Scott
Reading Level Age 8+
48 Pages
A fictionalized telling of the true story of Brian Brown Booby and the caring Caymanians who helped him.
Brian Brown Booby was too young to fly but somehow ended up 80 miles from home. This is the tale of the many people who helped him get back home, fed him, and believed in him so that he could learn to fly with his own kind.
Do you know the differences between
 the land-dwelling Hickatee and the
ocean-dwelling Sea Turtle?
Learn about them inside.
Reading Level:
Ages 6+
Written in Rhyme
45 Pages
Wonderful Illustrations
of the Native Hickatee Turtle
and Sea Turtles
by Anderson Atlas
Learn all about the endemic Hickatee turtle who has so many troubles–well-meaning humans who throw them to their deaths into the ocean, cars that run over them, loss of land to lay their eggs, and cousins pushing them out.
Shows physical traits and the differences between these land-dwelling turtles and the sea turtles that do reside in the ocean.
Make friends with the Hickatee today!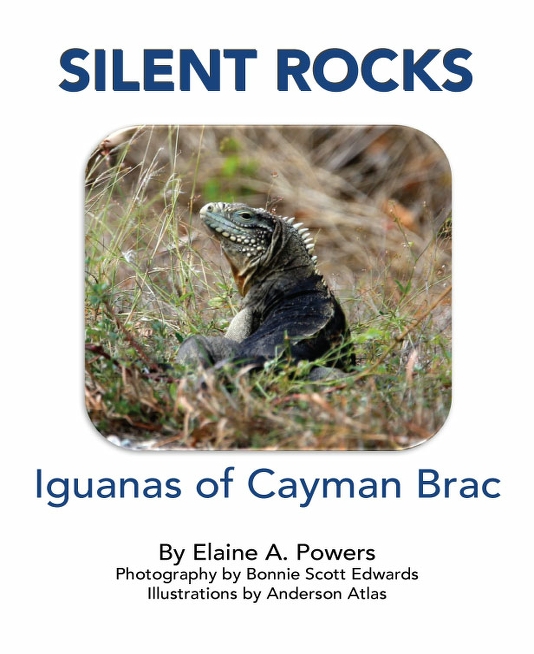 We don't want to see
the Iguanas disappear!
They belong on the island!
They must be here!
Written in Rhyme
For All Ages
26 pages
Photographs by
Bonnie Scott Edwards
Illustrations by
Anderson Atlas
The endemic Sister Isle Rock Iguana of Cayman Brac is critically endangered. This poignant book shows why* and how we humans can help. Includes many photographs of these magnificent large lizards.
*Silent Rocks can be used to teach how humans endanger many species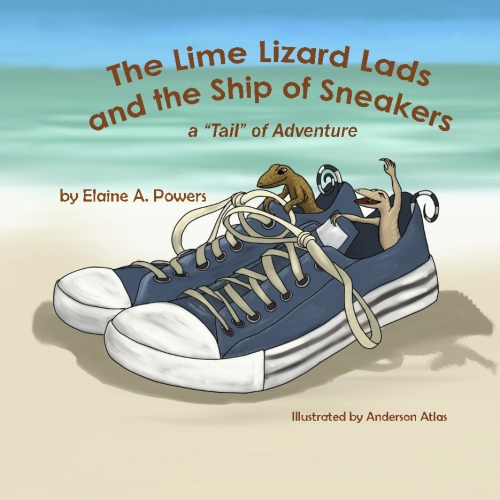 Gene and Bony,
The Lime Lizard Lads,
are tired of wondering
where the tourists go.
They decide to find out
for themselves and have
quite the adventure!
A Chapter Book
For Readers Age 8+

48 pages
Delightful, colorful
Illustrations of the animals,
the island and ocean life
by Anderson Atlas
Gene and Bony are Curly-tail Lizards who live on Cayman Brac. They are best friends and are known as the Lime Lizard Lads.
They enjoy a wonderful island life (besides dodging herons), but they are fascinated by the tourists, who love taking pictures of their perfectly curled tails.
Day after day, they wonder where the tourists go on those boats. Finally, the Lads decide to sneak aboard one and find out! But not without some second thoughts . . . especially when they got really hungry.
But the boat docked at last–at George Town on Grand Cayman. They are carried onto shore, and into a car, and back out to sea and onto land and back in a car. They'd had enough! It was time to escape from the bag and return to Cayman Brac!
There's just one thing–how will they get back home?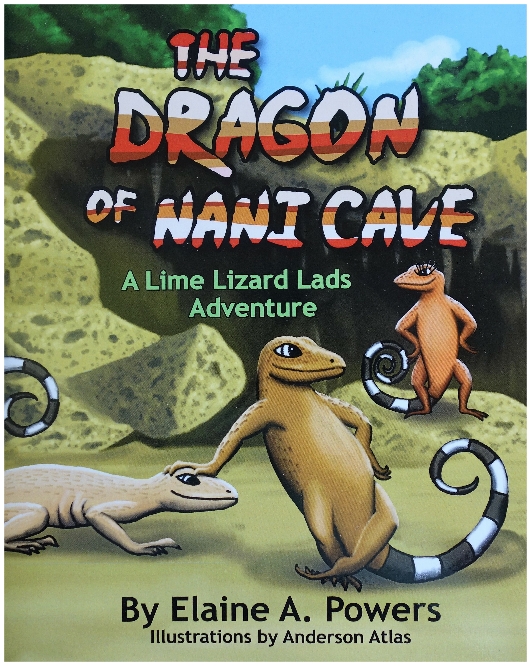 The Lime Lizard Lads,
Gene and Bony, LOVE exploring
their island home, where the bravest
thing possible is to go see
the Dragon of Nani Cave.
An Adventure Tale
For Readers Age 8+
48 pages
Fun and Colorful
Illustrations of the many
animals they encounter, 
including the Dragon!
by Anderson Atlas 
Gene and Bony are bored. They go see Old Soldier Crab who tells them wondrous, dangerous creatures live up on the bluff. And, if they go, they must prove themselves worthy and return with a piece of Caymanite.

They must journey through Skull Cave and meet bats, and a cat with sharp teeth. Then they meet Kat, a fellow Curly-tail Lizard and she knows the way to Nani Cave. But she warns there might be more than one dragon.
Meeting one danger after another, they finally arrive at Nani Cave. There he is: the dragon! He's HUGE! And look at all those teeth!
What will Gene and Bony do now?
KEEP THE FUN GOING!
COORDINATING WORKBOOKS AND
ACTIVITY SHEETS AVAILABLE AT
LYRIC POWER PUBLISHING, LLC:
MY  READING BOOK AND COLORING PAGES FOR THE DRAGON OF NANI CAVE
NINE PLANTS OF THE CAYMAN ISLANDS
FIVE WAYS TO PROTECT CAYMAN BRAC WILDLIFE COLORING BOOK
MY PASSPORT TO THE CAYMAN ISLANDS
ANIMALS OF NANI CAVE AND
CAYMAN BRAC COLORING PAGES