The authors are coming! The authors are coming! Once again, we'll be celebrating books and literacy in person in Tucson at the 2022 Tucson Festival of Books (TFOB)! Learn more about this Tucson book celebration staple and how you find me there. 
A Brief TFOB History
The first festival was held March 14-15, 2009 with 450 authors and 50,000 visitors. The number of visitors has grown to 135,000. Yes, little ole Tucson has the third-largest festival in the country! They have an amazing team of volunteers who keep everything moving smoothly.
One aspect that I particularly enjoy is the annual festival mascot. Each year's mascot is a resident animal of the Sonoran Desert. Creatures included so far have been the Gila monster, hummingbird, tarantula, Sonoran green toad, butterfly, Gambel's quail, bobcat, jackrabbit, roadrunner, javelina, and coyote. I've written books about many of them and others are my companions in our desert home. I've been trying to get a photograph of a jackrabbit for years. They're HUGE! This year's mascots are prairie dogs or rather (as I suspect), round-tailed ground squirrels. I'm partial to ground squirrels (Squirrels of the Sonoran Desert).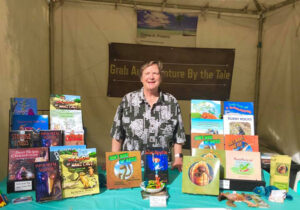 Here I am at a previous Festival with some of my books. I've published a bunch more since then. 
The 2022 Tucson Festival of Books!
This year's festival will be on March 12-13, 2022, at the University of Arizona Mall. I'll be in the children's section at booth #322. Look for Grab an Adventure by the Tale! Author-illustrator Brad Peterson, aka Anderson Atlas, will be joining me. Don't miss the opportunity to get your personally signed books by either or both of us! We'll be there all day, both days.
My books are all published through Lyric Power Publishing, LLC. One of my fellow LPP authors, Gene Twaronite, will sell and sign his books at the festival. He will be moving around to different locations for his signings. He starts at the Indie Authors – Children's Author Pavilion on Saturday, from 10 am to noon. Then at the AZ State Poetry Society booth (#410 from 1-3 pm). On Sunday, at the ASPS booth again from 10 am to noon. And finally, at Young Adult Author Rendezvous (booth 451) to display his two young adult fantasy novels. 
Something for Everyone
Even though the festival is an opportunity for authors to sell their books and readers to meet the authors in person, TFOB has much more to offer. There are talks, performances, the science pavilion, non-profit agencies, parks, and food vendors. Tucson has the best food trucks. However, the festival is a celebration of literature to increase literacy rates among children and adults. Any money left over after the expenses are contributed to local literacy programs. So far, they have donated over $2 million.
So, mark your calendar for March 12th and 13th. Here's a chance to get out and restock your reading pile with autographed books after meeting them in person. And remember to stop by booth #322. You'll be glad you did, and so will I!
For more information on this festival, check out their website: https://tucsonfestivalofbooks.org/
Tucson Festival of Books Event Image courtesy of Digital Bookmobile