We humans like to find ways of enhancing our means of movement. We strap wheels onto our feet, jump on skateboards, and climb on bicycles or motorcycles. We build cars to drive faster than we can walk. We build airplanes to fly in the sky like birds. But we've also invented wonderful devices to assist humans with mobility impairments. Furthermore, we don't just build these devices for ourselves, we build them for other animals too. Explore some of these animal mobility devices with me, including one that gives snakes… legs!
Some Helpful Human Devices
Science and engineering have developed many useful tools for animals. Wheels allow animals without use of their back legs to roll along, from dogs to turtles. Then there's the prosthetic limbs for alligators like Mr. Stubbs at the nearby Phoenix Herpetological Sanctuary. Another remarkable prosthetic was the tail created for Winter, a bottle-nose dolphin.
Movement is very important to people, even if it borders on the absurd. For instance, I included the technology that allowed a fish to move its tank on wheel, i.e. FOV, fish-operated vehicle in one of my books. I used a FOV to allow my protagonist Clarissa Catfish to wander around the Peoria Play House Children's Museum in my hometown of Peoria, IL.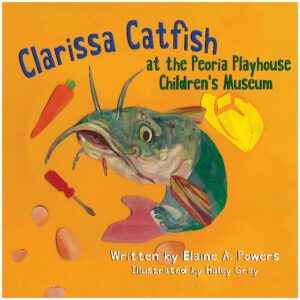 How a Snake Got Legs
So it should be no surprise, I was intrigued when an engineer decided to give snakes legs, claiming they were reversing an evolutionary mistake. Robotic technology has really advanced over the recent years, so that a robotic exoskeleton could be built.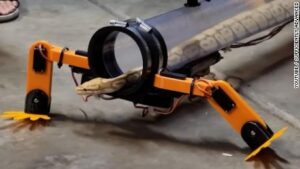 It took a few tries for the snake to enter the contraption, but once she did, she seemed to enjoy moving about with legs. Of course, she wasn't controlling the movement or the direction like the fish did, but those could be future enhancements. I am curious to see if this technology leads to more practical uses or if this was just fun with snakes. Maybe if the legs had a camera like the fish tank, the snake could be in control. Giving snakes legs might be the ultimate in enhancing movement, but then again who knows where movement technology will lead us and our animal associates.
Oh, and by the way, don't be surprised if your snake requests legs for its next gift-giving event! If you are interested in learning more about snakes, download one of my many educational workbooks on the topic.