I was experimenting with a writing prompt for mysteries. The prompt was to write about a common object in a mysterious way. I looked at my pepper grinder, a device that pulverizes hard objects. All the multi-colored peppercorns are ground into indistinguishable pieces. How terrifying it must be for the peppercorn to be crushed and chopped into little pieces! Fortunately, they are no longer alive and can't feel pain, but it does provide an example of how mundane objects can be turned into objects of malice. In addition, it got me wondering about how peppercorn grinders were invented.
I was surprised to find out that the grinder was invented by Peugeot back in 1842. Prior to its production, people used the mortar and pestle. The grinder was much less labor intensive! Stainless steel is the desired material, since it is durable and crack resistant (some of those peppercorns fight back!) Zinc alloy, ceramic and acrylic have also been used.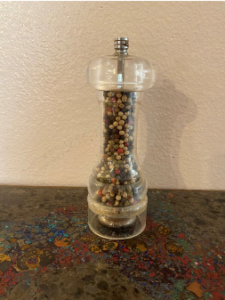 The instrument of destruction of the above peppercorns.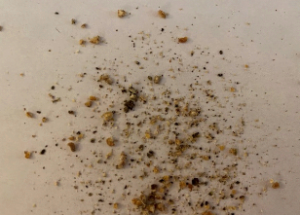 The results: releasing the delightful pepper flavors.
The next time you want to stimulate your creativity, look at some innocuous item in your house and make it into an object worthy of a murder mystery! I know I'll never look at my peppercorn grinder the same way.
Book Note: I am a mystery lover and have several murder mysteries in progress. I have also written and published theater scripts in the mystery genre. You can see them all on my Theater Scripts page.  Interested in the Performing Arts? Click on any of the book covers to buy them at Amazon–for your own practice as an actor, or for your performance group. They've been performed back East and are a lot of fun!