Bookshop Photo by Erika Clary
Writing a book is often the easiest part of "the book business." Unfortunately, due to the hours lost to writing, the author then has to market her work, even, in our times, if she is traditionally published.
As scary as it is to go to bookstores and ask the manager or the book buyer to consider selling my books, I have met some very interesting people along the way. When I was searching for selling opportunities, many people suggested I contact Winn Bundy at Singing Wind Bookshop.
I was not familiar with Singing Wind Bookshop. It was located in Benson, AZ for many years. I knew where Benson was, so I got directions and headed out. Singing Wind was not in the city limits of Benson, but in the surrounding territory. Driving through the open spaces, I wondered where the directions were taking me. Finally, there appeared a sign on a dirt road: Headquarters for Books about the Southwest.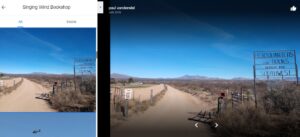 That dirt road took me to an amazing place. The Singing Wind Bookshop was located within Winn Bundy's ranch house. And yes, it was a working ranch. As I entered the bookshop, I was greeted by a dog, and a gray-haired woman, who insisted on giving me a tour of the shop. That was a requirement – you had to have the tour.
I was used to book shops with organized sections: Fiction, Self-Help, Science, History, etc. Singing Wind was uniquely organized by Winn but it was organized. She could find any book that she stocked in the multitude of literary works contained in the rooms.
It was a magical place where you could spend hours among an unusual array of books, many I doubt I'd find anywhere else. She truly had the best collection of books about the Southwest.
After I had selected several must-have books, I approached the manager about stocking my books. I first offered her Don't Call Me Turtle! She was non-committal, saying Winn would have to approve it.
I was thrilled when Winn told me that she thought my book was great and wanted it for her bookshop. I knew then I was a success as an author. I had Winn Bundy's approval.
I was amazed that this cattlewoman in the middle of the wide open spaces of Southern Arizona knew so many authors around the world. We were working on school programs together when Winn's health deteriorated. It would have been such an honor to work with her and the students. She did incredible work to promote literacy from her ranch house bookshop. If you like to read more about this remarkable woman, here is a great article in The Arizona Daily Star.
Don't forget to purchase your copy of the Winn-Bundy-approved Don't Series by me!