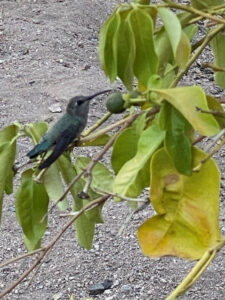 I wrote a book about the difficulties in photographing hummingbirds, How Not to Photograph a Hummingbird. It pits one bumbling human against the desert as he carelessly attempts to photograph an Anna's Hummingbird. If lucky, a hummer may alight for a moment or two, allowing the photographer to get the shot she wants.  But there is a tougher subject, that for some unknown reason, I feel compelled to try to photograph – Bats!
There are two main reasons why bats are hard to photograph. Not only do bats move fast and erratically, but it's also rather dark when they come out. If you thought photographing hummingbirds was hard, then bat photography might be downright impossible. Especially if using a cell phone to take photographs.
It's all for science!
So why am I trying to take photographs of these photo-elusive nocturnal mammals? I'm taking part in a citizen scientist research project on bats' use of pools, especially in times of drought or areas of low rainfall, such as the Sonoran Desert where I live. I have a bat call detector on the edge of my pool that records the bat calls each night. The researchers can identify which bat species made the call and determine bat activity.
I knew my pool would be a good location because I am often joined by bats when I swim at night. I know that I have at least two species. The most common bat visitor is a small, insect-eating species that comes in a group. But every now and then, like this summer, a much bigger, solitary bat swoops down to the water.
I was concerned that the chlorine in my pool water would bother the bats but it doesn't. I'm very glad. I also wondered if chlorine would help fight white-nose syndrome. Another possible research project, perhaps?
The researchers asked for all sorts of details about my pool: depth, length, shape, lighting, surrounding vegetation, fencing, nearby busy streets, etc. The results will be interesting to see what species of bats are around and which pools had the most activity. Tucson has a variety of bats: Big Brown, California leaf-nosed, Cave Myotis, Peter's Ghost-faced, Greater mastiff, Lesser Long-nosed, Mexican Free-tailed, Silver-haired, Spotted, Townsend's Big-eared, Western Pipistrelle, Western Red, and the Pallid. Over the years, I've tried to figure out which ones, swoop down to share my pool with me. They prefer me to either be on the side of the pool, so they can swoop at will, or in the center of the pool, so they can fly in a circle around me.
I can't resist the urge to photograph my aerial neighbors, but it's a lot harder than photographing a hummingbird. Here are my best efforts: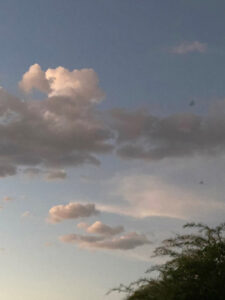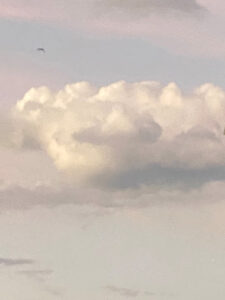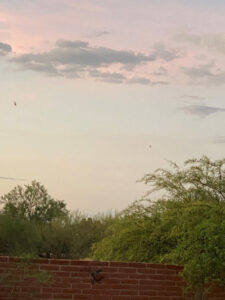 So, what do you think? Yes, these really are bats, not just smudges on my camera lens. Perhaps my next book should be How Not to Photograph Bats.
Stay tuned to for more blogs about my research on the citizen science bat project. And if you know any budding young bat scientists, I highly recommend My Book About Bats and Rats, a fun and educational workbook that not only focuses on the Caribbean Fruit Bat, but also the much easier to photograph rats that live on Cayman Brac.