Red-footed tortoises, Geochelone carbonaria, are popular pets. These natives of Central and South America are easy to care for and don't get too big, growing up to 30 pounds. They are also known for the bright colors on their skin and shell, including their namesake red scales on their legs.
Recently, I noticed how vivid Rose's head is.  Her yellow markings (above) are very different from the others in my household.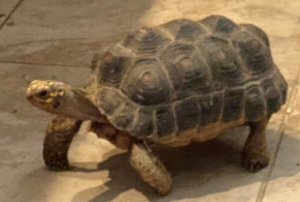 She is just as lovely from the side and you can see the red scles on her legs. Rose is the only one who has the yellow head.
Some red-footed tortoises have more red coloring on their heads – these are called cherry heads. Myrtle is an example of a cherry head.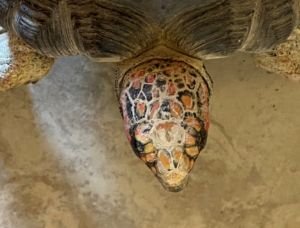 Not all heads are colorful. Some are rather humdrum like this one. No bright yellow or red scales on this tortoise.  But Gladiola is still a delightful tortoise.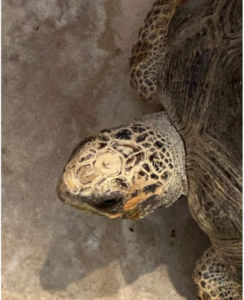 The varied color patterns are normal for this species of tortoise. The same clutch of tortoises can have different colored individuals.
No matter their head color, I enjoy all my red-footed tortoises.  They are good natured, personable and a lot of fun to have around.
However, when I asked Rose if she had the prettiest head of all the tortoises, she came as close to a tortoise shout as one could get. "YES!"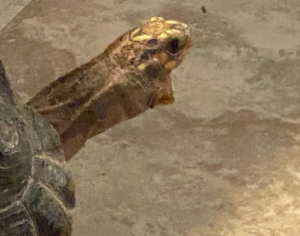 Book Note: Check out my fun tortoise book, Don't Call Me Turtle!, in which I write about the many differences between tortoises and turtles—in rhyme. It's a favorite book of little ones and their parents! Rhymes are not just fun—they help us to remember what we've learned.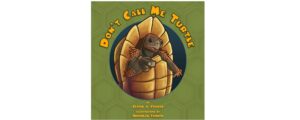 And for keeping the science juices going in a fun way this summer, check out the workbooks full of interesting and fun activity sheets on a variety of science subjects at LyricPower.net. The books are comprehensive, educational, economical and fun. They range from PreK to 4th grade. Check them out today.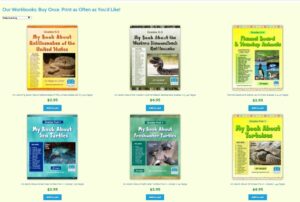 #elaineapowers   #lyricpower  #redfootedtortoise