If you are familiar with my writing, you'll have noticed that turtles are a frequent topic. But wait, you may say, I thought you usually wrote about tortoises? I hate to admit it, but tortoises fall into the category of turtles! Please don't tell Myrtle, my red-foot tortoise. I wrote my first rhyming picture book, Don't Call Me Turtle, for her. She kept being called Myrtle the turtle, which she hated. Most people don't realize just how different turtles and tortoises are. No matter if you prefer terrestrial or sea turtles, or tortoises, join together to shell-a-brate Turtle World Day on May 23. 
World Turtle Day started in 2000 as an event sponsored by American Tortoise Rescue. The purpose is to celebrate all turtles and bring awareness to their disappearing habitats and efforts to protect them. The majority, 61%, of the 356 species of turtle are threatened or have become extinct in modern times.
What Makes a Turtle a Turtle?
Since turtles are a diverse group of reptiles, let's explore what makes a turtle a turtle. As reptiles, they breathe air, lay eggs, and are ectotherms (their body temperatures vary with the environment). Turtles are all in the order Testudines, which is characterized by a shell developed primarily from their ribs. The shells consist of bone and are covered with scales made of keratin (the protein of hair and fingernails).
Turtles are found on most continents, many islands, and most of the ocean. What continent are turtles not found on? Antarctica, where it's a bit too cold. They are found in both freshwater and saltwater.
Over Land and Sea
Land turtles don't travel much, while sea turtles migrate long distances to lay eggs on selected beaches. But the sea turtles don't travel alone, many other animals travel along with them. Barnacles (one of my favorite animals), other crustaceans, remoras (fish), algae, and diatoms tag along and are dispersed to new locations.
Land turtles are also important dispersers of seeds as well as modifying their environment. They dig tunnels and help. maintain the environment in deserts, wetlands, and both freshwater and marine environs. These seemingly lackluster reptiles have a significant impact on the health of their ecosystems and our quality of life. In my book, Don't Make Me Rattle, you can learn about how many animals brumate* together in tortoise dens during cold weather. Animals that would be considered predator and prey, diner and meal, spend time together in underground dens. If turtle species are lost, many other species will be impacted, both plants and animals.
*In extreme temperatures, mammals hibernate, while reptiles brumate.
People are easily confused and can't tell the difference between terrestrial (land) turtles and sea turtles. This results in land turtles being thrown into the ocean. I wrote a book on this difference on behalf of the Cayman Islands where many freshwater hickatees are thrown to their death in the ocean.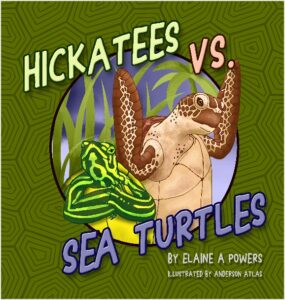 But this is also true of tortoises and land turtles. People too frequently throw tortoises into the water, where they drown. Turtles can swim, but tortoises can't. More on this later.
So, where do tortoises fit into this family? When I ask people if they know the differences between turtles and tortoises, the most common response is that turtles live in water. But the correct answer is, that all turtles can swim, although they may never be near water. Meet Ela, my Sonoran Desert Box Turtle.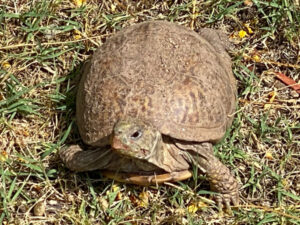 This turtle will never see a body of water but spent her life in the dryness of the desert. I did have another Sonoran Desert Box turtle who loved swimming in my pool. Every night I'd come home from work and find him paddling happily in the water, even though the water was very, very cold! The chlorine wasn't an issue to him. I worried about hypothermia, so blocked his path to the pool – he left! His spot in my yard was taken over by Ela. Ela would brumate with Zoe my Sonoran Desert tortoise each winter and they would emerge together in the spring.
For some of the many differences between turtles and tortoises, I humbly suggest you read Don't Call Me Turtle.
The Importance of Conservation
Why are turtles losing the battle to extinction? After all, turtles roamed about with dinosaurs and were able to survive what killed them off. Many are hunted for their meat and eggs, used in traditional medicine, their shells are used for jewelry, run over on the road, and drowned as bycatch. On top of this are habitat destruction, climate change, and disease. Sadly, this has reduced turtles around the world, something a meteor couldn't do 65 million years ago. 
We have witnessed turtle extinctions in our lifetime. I had the honor of meeting Lonesome George in the Galapagos, the last surviving Pinta giant tortoise (Chelonoidis abingdonii). His death in June 2012 was the end of a species. Although his death was publicized and mourned around the world, many reptilian species die without any notice.
But they're just turtles, tortoises, and terrapins, right? How much impact could they really have? When the giant tortoises were reintroduced to islands in the Galapagos (Ecuador), the savanna ecosystem was restored. This allows for the survival of other native plants and animals. One keystone species can accomplish a lot.
People look at turtles and tortoises and see moving lumps. Nondescript lumps that make a nice pop when you run over them on the road. However, if you've ever gotten to know a tortoise or a turtle, you know they have a lot of personalities. They don't hesitate to let you know their likes and dislikes. They are not "shrinking violets." No, these reptiles bite each other, ram each other with their gular horn, and chase each other at surprising speeds.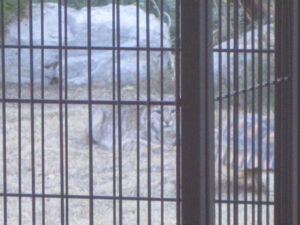 If you look closely at this photo, you'll see a bobcat on the right about to flee for its life from the rampaging sulcate tortoise on the left. Duke, the tortoise, was very proud of himself, strutting around the yard, looking for other predators to chase off. I should put up a "Beware of Attack Tortoise" sign on my gate.
Now, are you ready to shell-a-brate?! These fascinating reptiles deserve our support and admiration on May 23 and every day. My twelve tortoises and two turtles agree. If you have any questions about turtles, please reach out to me. You might also enjoy my turtle and tortoise videos on my YouTube channel.