Have you ever had to do something that you didn't want to do or you just couldn't get started?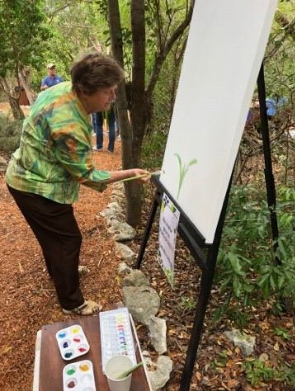 It happens to all of us. It's easy to find excuses not to start. Like when writing blog posts, I stare at the blank page and wonder what I should write. All that white space, staring back at me.
Today, I remembered when I was on Eleuthera, where the island's artists had all come together to sell their work. As part of the event, a blank canvas was set up with paints. The idea was, artists and visitors would each add something to the painting. 
The canvas was set up right behind my table. I saw the hesitancy to begin and I encouraged every artist that went by to start the painting, but none of them would. So I did. I was there celebrating the publication of my new book, Grow Home, Little Seeds, which is about plants finding their homes and sprouting, so I painted a plant sprouting as it pushed up out of the earth.
Amazingly, that's all it took. The artists each added something and, as you can see, created an amazing piece of art.
You can still see my original sprout, too! So you see, just a little effort can get things going and you just might end up with a masterpiece.
The book I was selling is set in the Leon Levy Preserve on Eleuthera. It's a tale of seed-friends, each finding their own perfect place to sprout.