Today, February 26, is Tell a Fairy Tale Day. A fairy tale is defined as a children's story about imaginary or magical beings and lands. Some fairy tales have been around so long they are part of folklore, passed down from storyteller to storyteller. Many of the fairy tales popular today were written in the 1800s; you might be familiar with those written by Hans Christian Andersen and the Brothers Grimm.
I am excited to tell you that fairy tales are still being created today. These stories and characters might still be popular two hundred years from now.
Tabby the Five-Finger Fairy is a new magical being, a fairy who lives in the common Five-finger tree, Tabebuia bahamensis, found only in the Lucayan Archipelago. The land in my fairy tale is very real, but it is a wondrous, I might even say, magical, place: The Bahamas. It is hoped by Scott Johnson, Tabby's creator, and The Bahamas National Trust, and me that Tabby (illustrated by Nicholas Thorpe), who loves Bahamian wildlife, bush teas, and making friends with animals and humans alike, will become a symbol for conservation and environmental education, not only in the islands but around the world.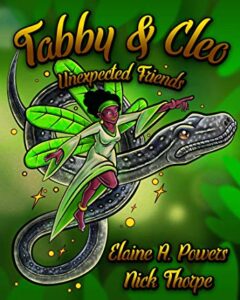 I encourage you to meet this new fairy tale character, Tabby, and enjoy her story aloud with another who appreciates warm tales of adventure and friendship, in Tabby and Cleo: Unexpected Friends. These stories are what I do: making science fun by weaving scientific information into adventure tales or rhyming stanzas. Enjoy a new fairy-tale story, on this special fairy-tale day.