A couple of years ago I rescued a Rhinoceros Iguana, Rango, who had bitten her owner and a guest too many times. I brought her into my home and, after quarantine, allowed her to free roam — until she started biting my feet. I finally figured out it was the color socks or pants that was attracting her. I hypothesized that I was wearing clothes that reminded her of food — you know, fruit and vegetable colors. So, I put her into a large open enclosure in the middle of her territory. The food preference attacks continued but she usually couldn't get hold of me.
I still needed to get into her enclosure for feeding and cleaning. Some days she would ignore me, other days she would leap at me, mouth agape. Most times, I was able to avoid her teeth, but one day, my reflexes were a bit too slow, and I got bitten!
Iguanas have razor sharp teeth designed to rip and bite through fibrous plant material. Powered by strong muscles, iguanas can deliver a significant bite. Consequently, my skin was easily pierced.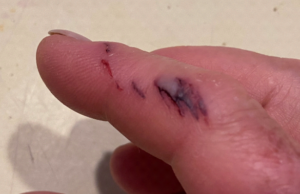 I resisted the urge to pull my finger from her teeth, since she kept hold of me. Doing that would have shredded my finger's tissue even more. Rango bit down a few more times, perhaps trying to show me who was in charge.
I had only opened one end of the enclosure door when Rango grabbed me. I stood there trying to decide the best way to get her to release my finger. I unhooked the latch on the other side of the door, thinking she might let go for the opportunity to roam about the room, but she clamped down harder. I re-latched that side of door.
I thought about trying to lift her up, since repositioning the body position might encourage release, but then I'd have to let go of the other side of the door that I was holding open because both of us were in the opening.
I knew alcohol would get her to let go, but the nearest bottle was across two rooms in the kitchen.
I've been told that any alcohol would work: rubbing alcohol or hard liquor. I had a green iguana who used to taste my food and drinks and he never liked any of my alcoholic drinks. The fumes near the iguana's face or a bit in its mouth should be sufficient to release the captured body part. But don't pour it down the iguana's throat — you don't want to pour the alcohol into its lungs.
Patience paid off and Rango eventually released my finger. I quickly latched the enclosure door. I really couldn't blame Rango, since she is a wild animal and did what her instincts told her.  I did wonder, but only for a moment, if she'd like meat in her diet. She wouldn't — she's an herbivore and, very much, a folivore (leaf eater).
I suspect Rango will attempt to bite me again in the future.  I think I'll prepare for the eventuality and strategically place a bottle of some kind of alcohol on her enclosure. Within easy reach, of course, for the next time Rango latches on.
Book Note: I generally write fun science books for children, but I do also write about issues important to me, such as my book about the disappearing Rock Iguanas of Cayman Brac, Silent Rocks, that can be used to teach principles of Conservation.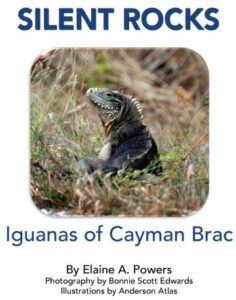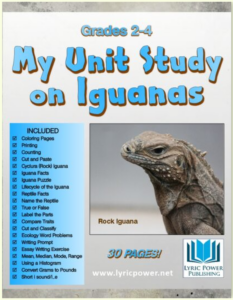 And to supplement your child's education during the summer, check out the workbook full of fun and interesting activity sheets called My Unit Study on Iguanas, at Lyric Power Publishing, LLC.  The pages included in the workbook are listed on the cover.
#elaineapowers    #lyricpower   #iguanabite