In a previous blog, I related a story how even in my early years, I was working to keep wild alligators away from people food with stale, very hard, marshmallows. This occurred on Sanibel Island, FL. 
Have you ever thought about where marshmallows come from? My marshmallow story took place on Sanibel Island, FL, where you can find the marsh mallow growing. Yes, the marsh mallow is a plant. I learned about it while I was working at the "Ding" Darling National Wildlife Refuge. On Sanibel the species is called Kosteletzkya virginica.
Did you think marshmallows were merely fluffy sugar? Well, they're not. Marshmallows have been around since ancient Egypt. They used the mallow, Althaea officinalis, which grew in salty marshes. The sweet sap was made into a candy that was dedicated to their gods.
The ancient Greeks valued the medicinal properties of the mallow. Many cultures have used mallow to treat wounds, inflammation, toothaches and sore throats.
In the 1800s, the French created a candy for adult consumption, in addition to its previous medicinal uses. The mallow sap was whipped with egg whites and corn syrup into an easily moldable substance and the modern marshmallow was created. The next time you enjoy a marshmallow, think of the plant from which it came:  the mallow growing in salty marshes.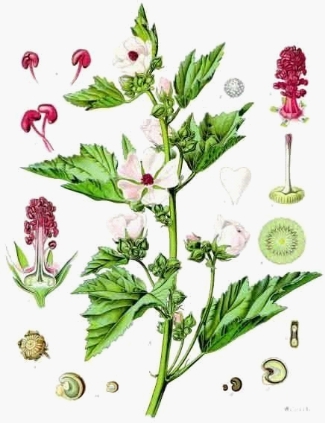 NOTE: Every now and then, I divert from writing about animals to do a bit of plant investigation. To see some of my work on plants, check out The Queen of the Night about the fascinating Night-Blooming Cereus, plants that bloom magnificently only one night per year—and they wait for each other to bloom all at the same time. EAP