Do you have a favorite footrest in your home? Putting one's feet up is so relaxing and relieving. The cushioniest footrest in my house is the one that came with a comfy chair. Simple, functional, the perfect height, very practical.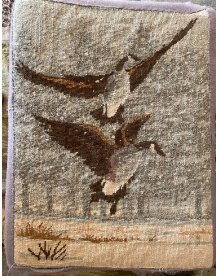 My favorite footrest is covered with a needlepoint I stitched many decades ago. I was living in Michigan, so the Canada Goose theme was appropriate . . . as is the snow. Lots of snow in the lake-effect region of Southern Michigan. I could cross-country ski right out of my garage. I don't miss the snow now that I'm here in the Sonoran Desert. Snow here is just wrong to me.
My most recent footrest comes to me while I am writing at the table. I don't even have to pick my feet up – she walks right under me.  She stops, not minding that my feet are resting on her shell. In fact, I think it's her way of making contact.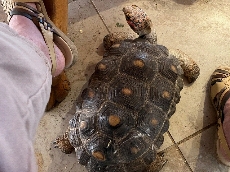 If you want to learn more about tortoises, Myrtle, my footrest tortoise, has inspired a book Don't Call Me Turtle and a number of workbooks at Lyric Power Publishing, LLC, where science education is fun!