Farewell, 2021! You've been an interesting year. Welcome, 2022! I'm sure the coming year will be as eventful as the last, but I have hope that it will bring more good than bad. Yes, I choose to have hope for the new year. This new year starts with difficulties, such as new variants thriving, economic difficulties, etc. Some may say that dark clouds hover on the horizon. But, I have hope that the seeds we have planted in 2021 will sprout.
Look to the Mangroves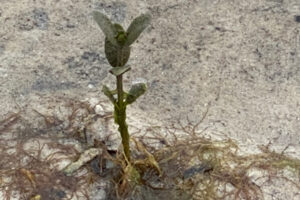 Like this red mangrove propagule, I believe our efforts will sprout and build up the world around it. Red mangroves, Rhizophora mangle, are known for their ability to build up the land at the edges of oceans. They are able to hold on to the soil against the assaults of waves.
When I feel beaten down by life, I will think of the red mangrove seed and try to persevere, no matter how daunting the situation may seem. I want to believe that this little tree will grow, despite the isolation of its locale.
I hope to eliminate or endure the negativity I perceive, whether the faults are within me or derived from external sources.
Make Like a Crab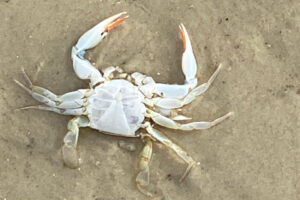 I want to be like a crab and shed the negativity like I am removing an exoskeleton. When crustaceans molt, they are then able to grow. I want to grow as a person as well.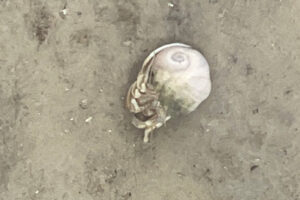 I was encouraged to see this egg casing on the beach for a moon shell, Neverita duplicate. I want to believe that animals will be allowed to survive and thrive around us. This was my mother's favorite seashell. I want others to enjoy them as much as she did. Knowing that eggs were released gives me a little bit of hope that future generations of mollusks will survive, despite the impact of man on the world's environments. We are not alone in this world and together we can help us all survive.
Have Hope
I have hope that my books will bring entertainment and enlightenment to others. I have hope that the environment will endure in the presence of mankind. My wish for you is that everyone is able to flourish in 2022. May you go forth and multiply; if not biologically, then in accomplishments, good works, and enjoyment in living.
May the New Year bring you:
Happy New Year, Everyone!
-Elaine