Did you know reptiles have sleep-overs, too? While mammals hibernate in cold weather, reptiles brumate.
I'm not just talking about different species cohabitating, or sharing dens, during brumation. No, I'm talking about reptiles sleeping over when they are inside a dwelling–even those that have entire houses to roam and numerous corners to sleep in.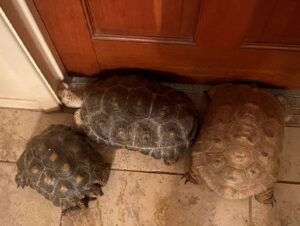 Take this group, for example. Flipper, Gladiola and Zoe gather at a door to a room they're not allowed in. Was this how they wanted to spend the night? No, Gladiola decided to find another bed, but Flipper and Zoe were content and wedged themselves into the corner.
But don't worry, Flipper and Zoe weren't alone very long. As you can see in the picture at the top of this post, Calliope Green Iguana had to join in the fun. She didn't even need any ground space. She was content to use the tortoises for her bed. The tortoises don't mind.
It's extra nice when you can sleep with friends. Just ask us humans–many of us are very much looking forward to hanging out with family and friends again. Until then, we will dream of each other and a warmer future . . .
Book Note: Did you know rattlesnakes have sleepovers? And that mother rattlers babysit for each other? Or that the young aren't born from eggs? You can learn all about these things and much, much more about rattlesnakes in my book Don't Make Me Rattle! It is packed with information about rattlers for educating your children and to their delight, it is written in rhyme. Teach children to understand, and not fear, these snakes who want only to live in peace and play their role in the great circle of life (keeping vermin in check so they don't overrun the planet).
*See The "Don't" Series here.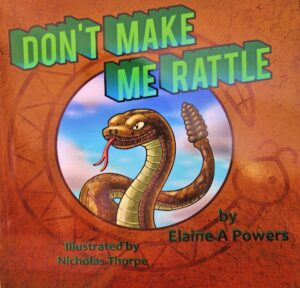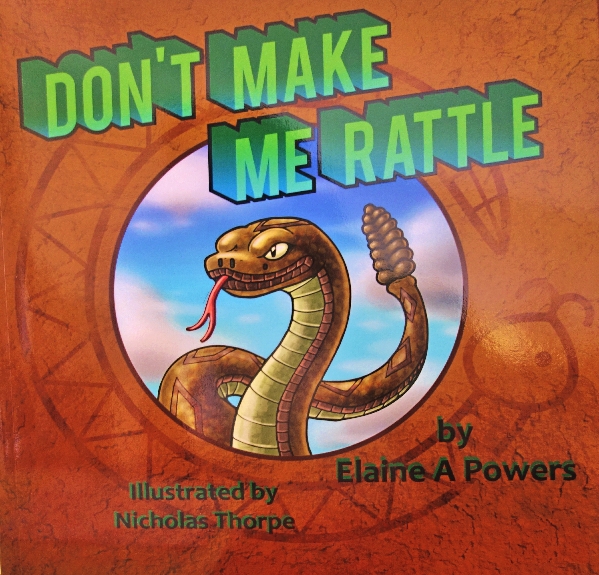 There's Much More to Me
Than You Know!
I Am Shy and My
Rattle is Only a Warning:
Please, Stay Away!
For All Ages
Reading Level 8+
Bold and Vibrant Illustrations
by Nicholas Thorpe
Written in Rhyme
40 pages
COMPLETE
BOOK DESCRIPTION HERE