Invasive species are a common topic in environmental discussions these days, and rightfully so. Often, these concepts seem to deal with invasive plants or animals that affect people and places far away. But if you've ever watched my Reptile-Side chats, or witnessed one of my school or community visits, you know my non-human housemates are reptiles, mostly iguanas and tortoises. What you may not realize is that some of them are invasive species.
It's Raining Green Iguanas!
Take green iguanas, for instance. I have both green and rock iguanas, species involved in my conservation effort in the Caribbean area. However, green iguanas are well-known invasives. They can be entertaining, like when comatose green iguanas fall from the trees during cold snaps in Florida. "It's raining reptiles!" people love to say. Knowing how fond I am of iguanas, folks assume I want to help these unfortunate frozen lizards. They're surprised when I suggest that the local wildlife personnel and the public finish the job that nature began.
I am a fan of iguanas, but prefer them to be safe and protected in their natural environment. Green iguanas, who are unable to handle cold weather in south Florida, are native to much warmer Central America. These wonderful animals have been introduced around the world through the pet trade, as stowaways on ship containers, and from human negligence. As a result, they've become a very dangerous invasive species. They're not aggressive or a danger to humans; rather, they're dangerous because they destroy non-native environments.
Part of my volunteer work as a citizen scientist involves helping to identify invasive green iguanas throughout the world. Posters have been created and flyers produced to spread the word, but more needs to be done. My author skills came to the rescue, and I created identification booklets for the public. These little booklets enable the public to tell the difference between native and invasive iguanas. In addition, they educate folks on the importance of native lizards.
In Tucson, Arizona, where I live, green iguanas are not a problem. Iguanas need more humidity and better vegetation to survive in this harsh environment. It's not a problem for their relatives, the chuckwalla, who do well here. An invasive species that also does well here and lives in my yard—the sulcata tortoise. Surely, you must be thinking 'how dangerous can a tortoise be?'
Invasive Tortoises in the Desert
The reality is that sulcata tortoises can have devastating effects on native Sonoran desert tortoises. Sulcata tortoises are natives of southern Saharan Africa, not southern Arizona. Sulcatas are much larger than the desert tortoise, 100-200lbs versus 15lbs. Both species eat the same plants, which means competition for limited food sources and water supplies. They also compete for a territory that, thanks to humans, steadily decreases.
Why are sulcatas roaming the Sonoran desert in the first place? They've been dumped by humans. You see, sulcatas are a favorite pet choice. As hatchlings, they're a nice size and are both friendly and calm. In contrast, desert tortoises are much smaller at hatching. They're shy around humans (who are viewed as possible predators) and tend to explore.
People may enjoy having a pet tortoise when they're small. However, as they grow (and grow and grow) their caretakers learn how just destructive sulcatas can be. Sulcatas can easily dig through doors and drywall. Furniture is moved and broken while gardens and plantings are destroyed. One of my sulcata tortoises digs outside quite a bit, and I wondered how close she'd gotten to my house foundation. Turns out she was undermining it.
Due to the harshness of desert life, both sulcata and desert tortoises dig tunnels to escape the intense heat. Obviously from their size, sulcatas dig much bigger holes than the smaller desert tortoises. Sulcata dens can easily be 30 feet long and 20 feet deep, while desert dens are far smaller. Either type of den can provide a habitat for other animals. When my female sulcata dug a burrow in my yard, the desert tortoise helped herself and moved right in. Consequently, the sulcata had to continue digging to make the burrow big enough for both of them. They are not happy den-mates.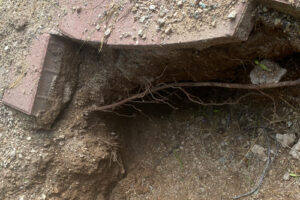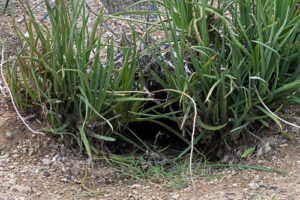 In other households, many unwitting owners eventually decide their tortoise is too destructive and unmanageable. Instead of finding a new home or at least contacting a rescue group, they're often just dumped in the desert. Once there, not only do they have to compete with desert tortoises, they can also introduce diseases.
At least dumped sulcatas can survive here in the Sonoran desert. When I lived in New Jersey, I read a report stating that a Sulcata tortoise was found in a Pennsylvania forest. Fortunately, the unlucky tortoise was found before winter set in. A long, slow death in cold weather is a fate no reptile deserves.
How Can You Help?
An inconvenient and abandoned pet can easily become invasive and have a devastating effect on native animals. When we bring animals into our homes, it's our responsibility to ensure they have a good place to live for the rest of their lives—which is up to 150 years for a tortoise. Once they live with humans they can never be released or returned into the wild. And they should never, ever be left in someone else's habitat. Before you decide to bring home a pet, like a tortoise or an iguana, it's a good idea to learn everything you can about them and make sure they're the right pet for you.