Here, my youngest iguana, Twizzler Spiny-tail Iguana, is demonstrating that he is literally climbing the wall.
by Elaine A. Powers
If you're like me, you're spending more time at home than usual. Of course, this should help my writing output, but I often get distracted by the news of the world. Fortunately, I live with an assortment of animals who help me maintain my mental wellbeing.
At first my reptiles, many of whom free-roam my house, enjoyed having me around. They'd join in at my work area and sit at my feet, or wander by, walking over my feet or pushing my wheeled-chair. I liked the attention.
But over time, I noticed they weren't around me as much. They had been accustomed to me traveling and having other caregivers while I was gone. Absence made their hearts grow fonder. Now, they have found favorite spots to hang out in in other rooms, especially the spare bedroom.
Was it something I said? Maybe I'm watching too much news or it's been too long without me taking a trip. Well, we've all got our own space, so we should be content, right?
Nope! Today I realized that my reptiles may be experiencing enough stress to drive them "up the wall." The phrase means being irritated or angry enough that one feels the need to escape, even if it means climbing up and over walls.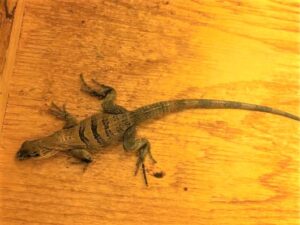 Twizzler was eventually able to relax and made his way back down and settled into the day's activities.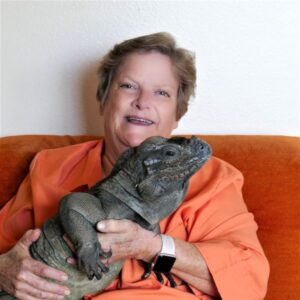 As you can see above, iguanas can become quite large. So, when I wrote The Dragon of Nani Cave–well, the dragon isn't really a dragon. It's an iguana and only seems like a dragon to small Curly-tail lizards, the Lime Lizard Lads, who work up enough courage  to go find the dragon (with a little help from their friends). While the lizards are having an adventure, young readers are learning all about ecosystems (and they don't even know it). That's what we do around here–make learning about science fun!
Grab a copy today and while you're at it, click the links below to check out the coordinating activity sheets and workbooks that reinforce the educational material in the book. They are lots of fun and help to pass the many hours at home.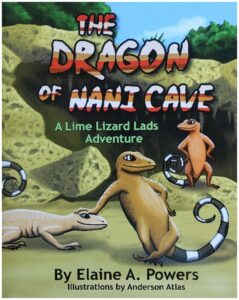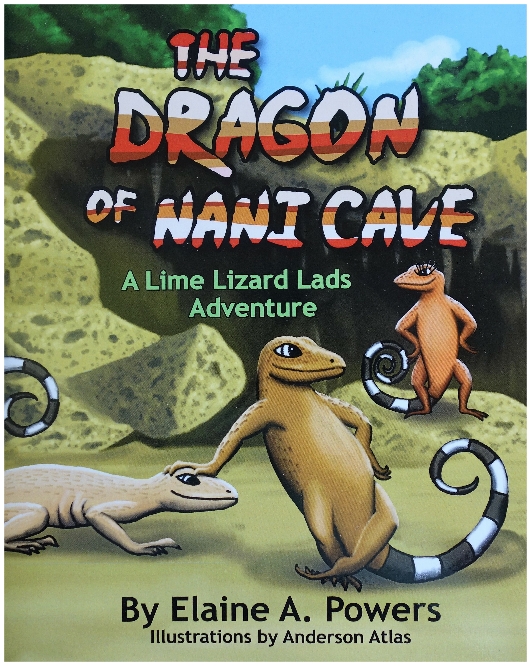 The Lime Lizard Lads, Gene and Bony, LOVE exploring their island home, where the bravest thing possible is to go seethe Dragon of Nani Cave.
An Adventure Tale For Readers Age 8+  48 pages
Fun and Colorful Illustrations of the many animals they encounter, 
including the Dragon! By Anderson Atlas 
Gene and Bony are bored. They go see Old Soldier Crab who tells them wondrous, dangerous creatures live up on the bluff. And, if they go, they must prove themselves worthy and return with a piece of Caymanite.

They must journey through Skull Cave and meet bats, and a cat with sharp teeth. Then they meet Kat, a fellow Curly-tail Lizard and she knows the way to Nani Cave. But she warns there might be more than one dragon.
Meeting one danger after another, they finally arrive at Nani Cave. There he is: the dragon! He's HUGE! And look at all those teeth!
What will Gene and Bony do now?
KEEP THE FUN GOING!
COORDINATING WORKBOOKS AND
ACTIVITY SHEETS AVAILABLE AT
LYRIC POWER PUBLISHING, LLC:
MY  READING BOOK AND COLORING PAGES FOR THE DRAGON OF NANI CAVE
NINE PLANTS OF THE CAYMAN ISLANDS
FIVE WAYS TO PROTECT CAYMAN BRAC WILDLIFE COLORING BOOK
MY PASSPORT TO THE CAYMAN ISLANDS
ANIMALS OF NANI CAVE AND
CAYMAN BRAC COLORING PAGES