I saw these magnificent agave's in the neighborhood where my chorus practiced outside. I was astounded by the height of the flower stalks that passed the second floor's windows. I had to know what plant they were! They are Octopus Agave, Agave vilmoriniana.
These plants are native to northwest Mexico, so it's not surprising they would also grow well just over the international border.  They are rapid growers, but short-lived. They can grow to four to five feet in height, but live less than ten years. The presence of these stalks indicates these individuals' lives are coming to an end.
It wasn't obvious to me why the common name is Octopus Agave. However, it's because the leaves are recurved, first sloping down and slightly twisting upward.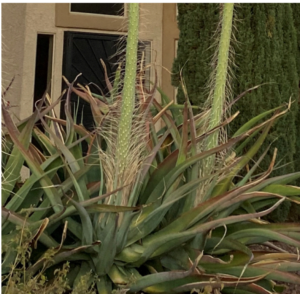 Of course, the flower spikes are what attracted my attention. The stalk grows to 10-20 feet tall. Over six to eight weeks the flowers will bloom and develop plantlets.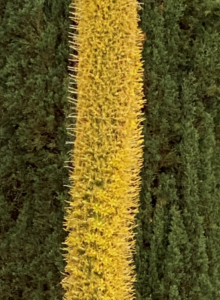 An interesting fact is that this agave has a very high concentration of the sapogenin smilagenen. Sometimes, the leaves are cut, dried and fibers beaten to create a brush with its own soap.
This is a striking, beautiful plant that lives fast and dies young, and can clean up, too!
#elainapowers  #lyricpower  #octopusagave
Book Note: I am fascinated by plants and truly enjoy having them all around me. I have written two books about plants, one for ages 8+, Grow Home, Little Seeds, an adventure tale starring seeds that are all looking for just the right place to germinate. It teaches the science about plants and how they grow in a fun way.  The second one, Queen of the Night: the Night-blooming Cereus, is about the magnificent desert plants that all bloom on one night, together. It is colorfully illustrated and written in rhyme, so learning the science is memorable and interesting.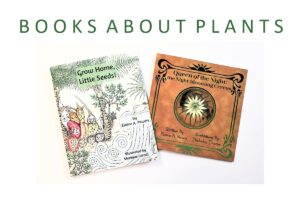 I believe learning science in rhyme or a story makes the learning stick. Check my books out today. Someone you know might really enjoy a fun-science book. You can see all my fun-science children's books on My Books page.