Home sweet home. What do you think of when you think of home? Family? Safety? Danger? Well, maybe not danger, but there are so many things to trip over while going about one's daily routine. Parents often complain about their children's toys lying about on the floor, rug edges, strewn clothes, etc. My house is also full of trip hazards. However, it's not what I'll trip over but who. Yes, I regularly trip over my family members. Of course, they are rather short and walk very quietly. Sandburg's cat feet have nothing on a tortoise or turtle feet. At least, my iguanas have the decency to click their nails on my tile floor as they approach. Join me for a day in the life with my rascally reptiles.
Rascals from the Start!
My day starts with tortoises circling me as I prepare everyone's breakfasts. I'm trying to concentrate on all their plates spread out on the counter and I have to deal with multiple tortoises roaming around my feet. One moment, I'm alone, tearing collard green leaves, the next I'm being circled by several hard-shelled creatures. I move them away, but they just come back. Not only do I trip over them, but they walk over my feet, pinning them to the floor.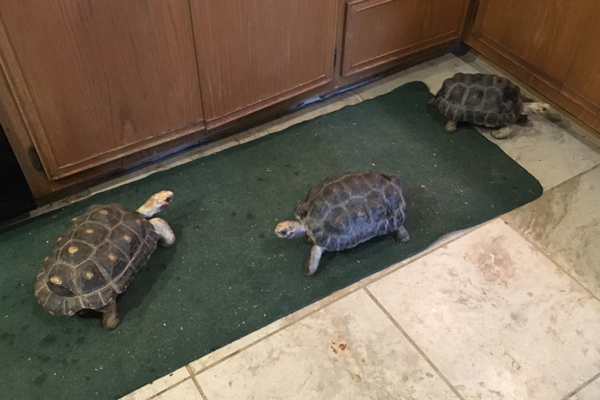 Another place that the tortoises like to lie in wait to trip me is on the rug in the front room. Their dark shells blend in nicely with my rug. They are particularly effective speed bumps when the room is dark. I've done a few face plants on this, fortunately, very plush rug, so no significant injuries. But it is always a surprise!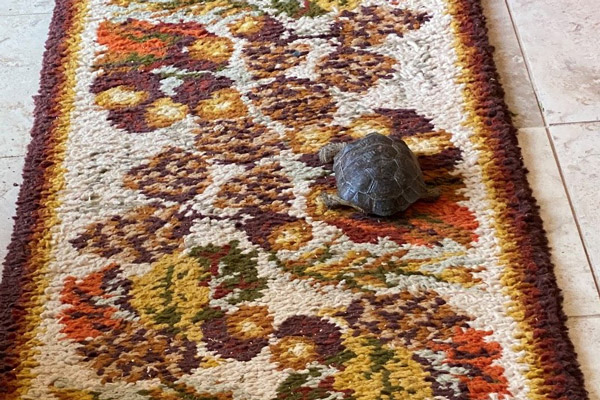 Obsolete Obstacles
If I place something on the floor, the tortoises have to explore, pushing it or climbing over it.
You wouldn't think an animal with this body shape would have such a need to climb. I guess tortoises and people are a lot alike when it comes to climbing. After all, why do we climb Mount Everest? Because it's there.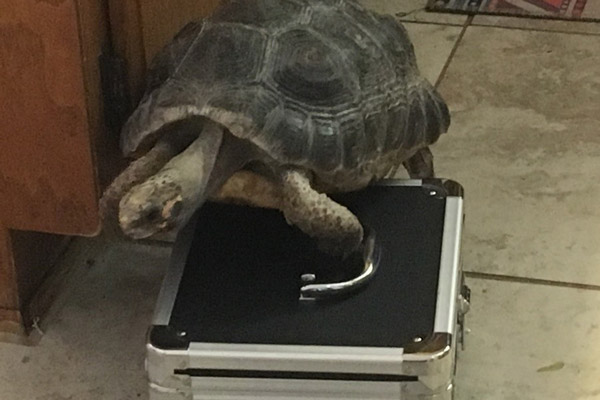 But climbing isn't limited to my tortoises. The master climber in the household is the box turtle. He particularly likes screens. And tight spaces. I put the box in the space to keep him from crawling to the back. Unfortunately, the box was an obstacle he could overcome…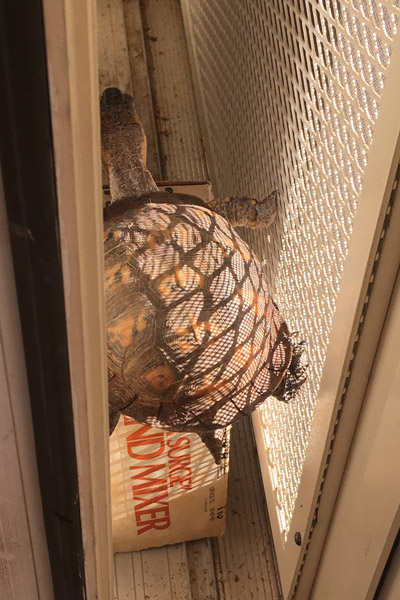 I always double-check that there isn't a turtle in the door before I lock it up.
As I mentioned above, the tortoises are tripping hazards. But I can't get away from their attacks even while sitting. If they can't go under or over something, they push it, like a bulldozer. They have enough oomph to move the chair with me on it. An empty chair can end up in a different room.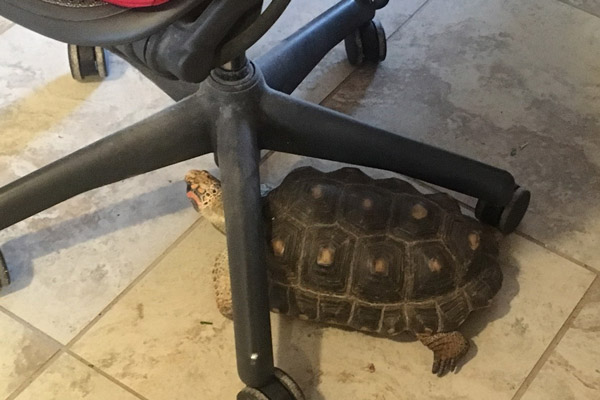 Lurking Lizards
I have other reptiles in my family that I have to watch for. I always double-check my sofa before sitting, because there just might be a large lizard lurking beneath the pillows.
There's a mouth at the other end of that tail.
I'm not the only household member who is targeted by the tortoises. At least they don't flip me on my back and spin me like a top…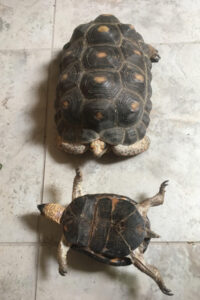 So, the next time you step on your child's toys with your bare feet, remember it could be worse. You could be the unwitting or intentional victim of scheming tortoises, turtles, and iguanas. Those rascally reptiles! If you'd like to learn more about my reptile family please visit my YouTube channel and while you're there, remember to subscribe!