When I lived in New Jersey, I ran an iguana rescue and adoption program. If an iguana's life was in danger, I would always have room for it. All of the iguanas I took in were green iguanas, Iguana iguana, but I really wanted one another type of iguana, the spiny-tail iguana, Ctenosaura similis. C. similis, also called black iguanas. Enter Krinkle. Krinkle had an important life, but an even more important legacy. 
The Story of Krinkle
Because I would always take in iguanas, I was on the call list for many police departments and animal control centers. One day I got a call from an animal control center saying they had a black iguana. I told them I was on my way. I picked up a five-year-old spiny-tail iguana that I named Krinkle. A cute name for a sad condition.
You see, Krinkle had a deformed body. For the first five years of his life, he'd been kept in a five-gallon aquarium, which he quickly outgrew. His body sacrificed his hips and tail in the tight space. His head and shoulders were full-sized, but his hips were small and his tail was accordioned. Worst of all, Krinkle couldn't walk. He eventually got angry enough that he bit his owners, who took him to Animal Control. Which turned out for the best, I was delighted to welcome this black iguana into my family. 
With some physical therapy, nutritious food, and affection, Krinkle thrived. His tail eventually relaxed a bit. He learned to walk, although he was never able to run. But most importantly he became an important educator. Content in his new life, he never showed aggression and was always calm, even as he was passed around, child to child, at my reptile talks. He never opened his mouth in anger or for any reason. I wanted him to open up so the kids and adults could see his impressive teeth, but he wouldn't. I believe he truly enjoyed educating people about lizards and the cruelty perpetrated upon reptiles.
He even liked hanging out with other family members. This is Krinkle with Rose Red-foot Tortoise and Calliope Green Iguana.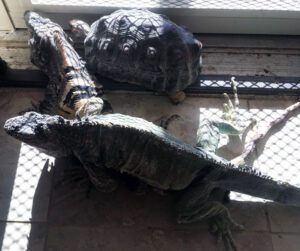 The Legacy of Krinkle
Sadly, a few years ago Krinkle passed away. But his educational influence continues to this day. In a previous blog, I described how Chelsea Richardson at Respectfully Dead prepares and cleans animal skeletons. She agreed to take on Krinkle and did a phenomenal job. I knew Krinkle's skeleton would be fascinating. After cleaning, the bones were reassembled. Below is the result of her team's efforts. Truly magnificent – Krinkle would be happy.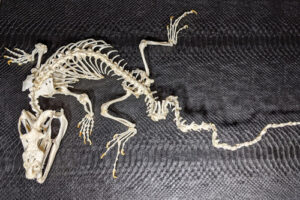 His tail end is mostly fused, instead of articulated vertebrae.
Even in death, Krinkle's story will continue to be told. He will educate about proper care and animal abuse of reptiles. I do appreciate the first owners being responsible enough to turn Krinkle into their local Animal Control so that he could be rehomed. He was truly an ambassador for reptiles and lizards, in particular. RIP, Krinkle and Long live Krinkle the lizard!